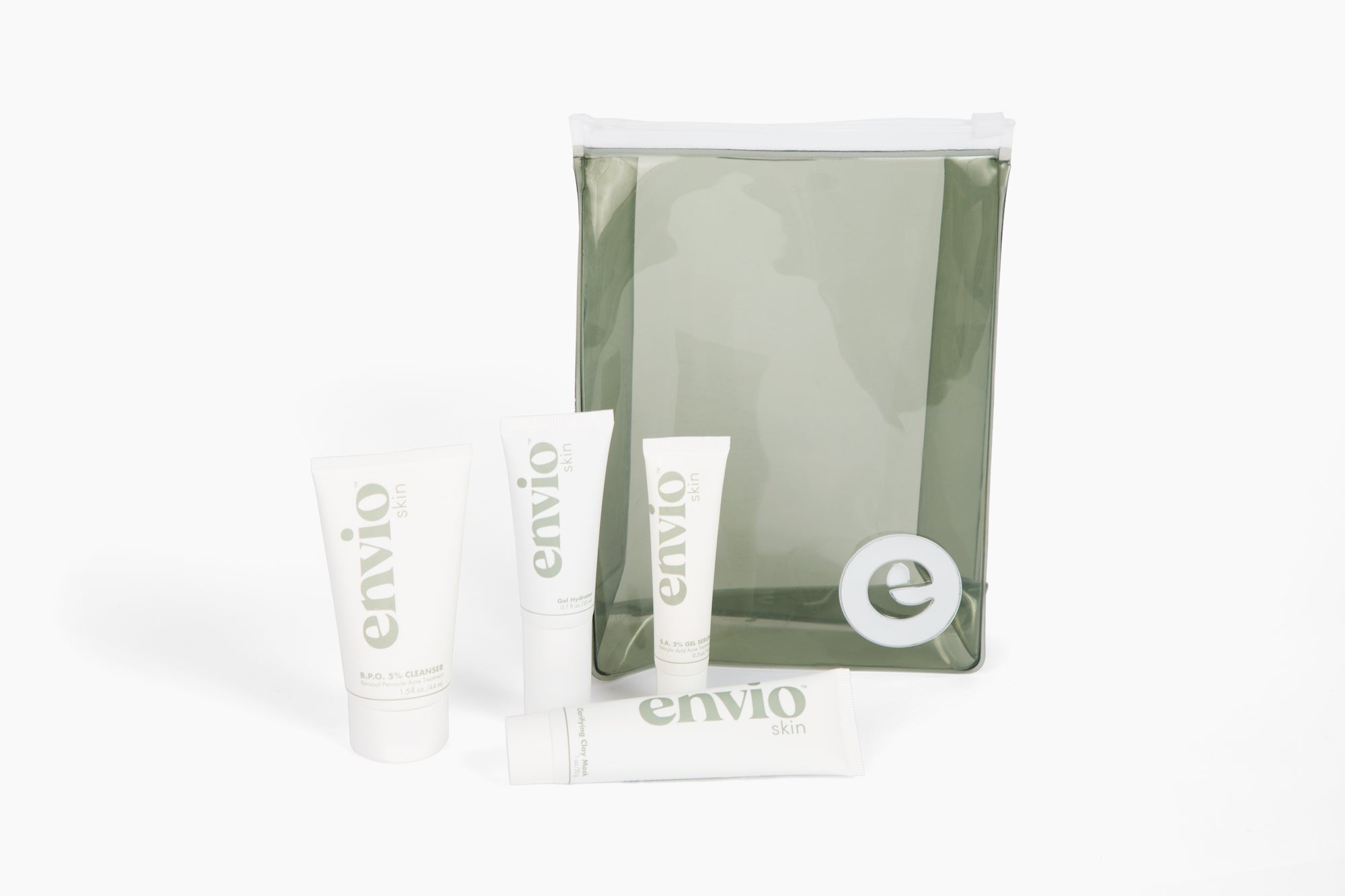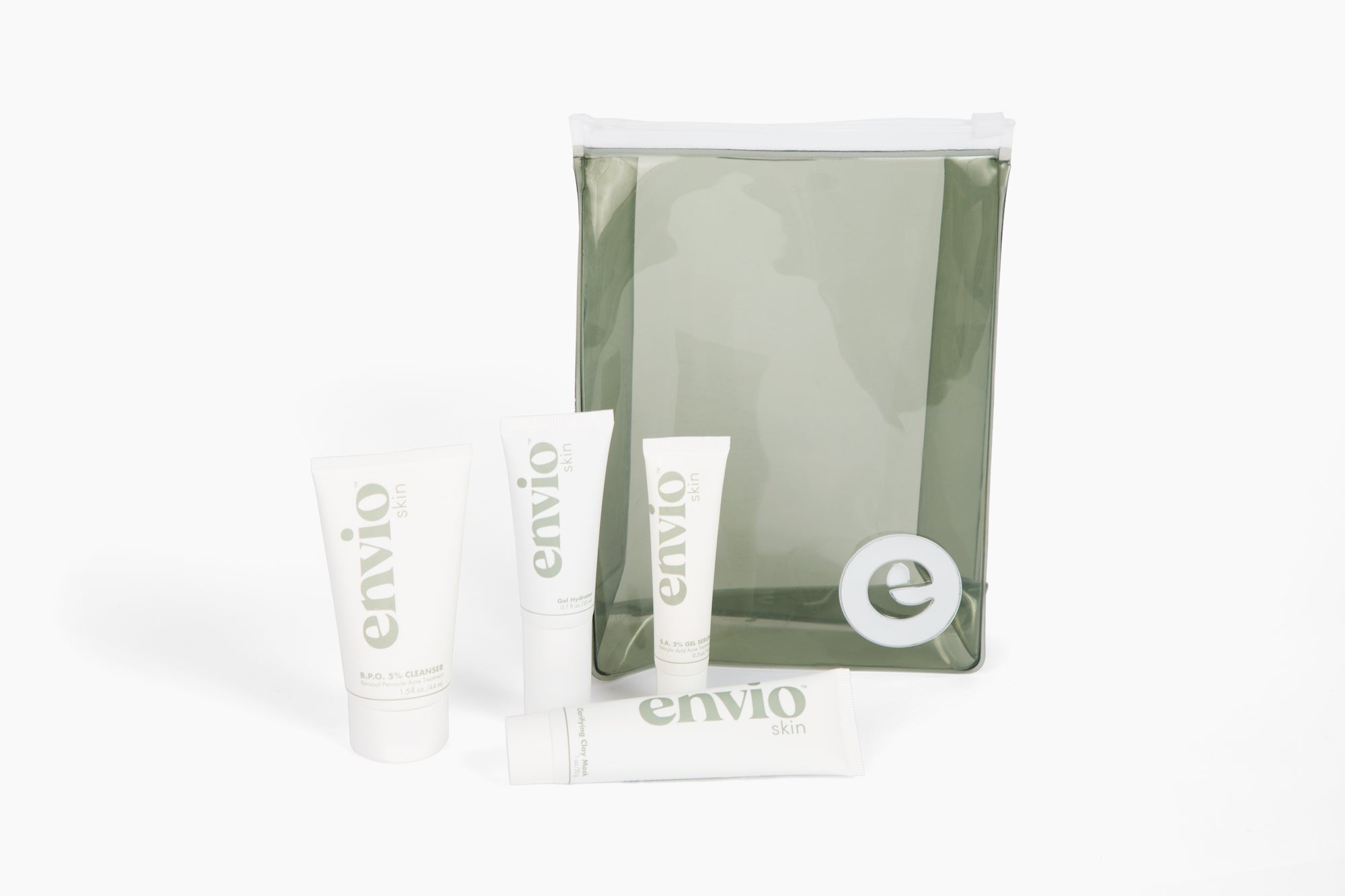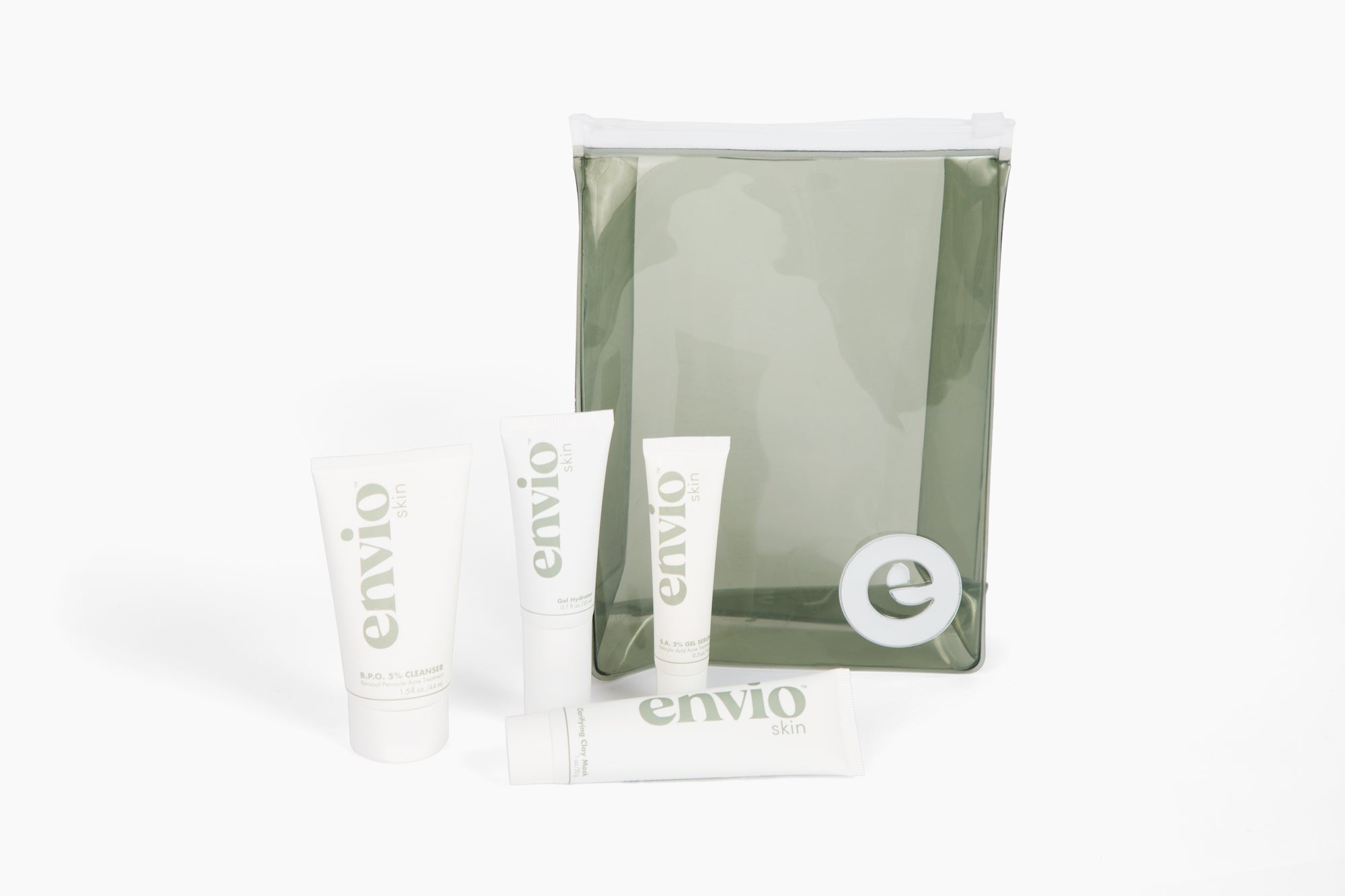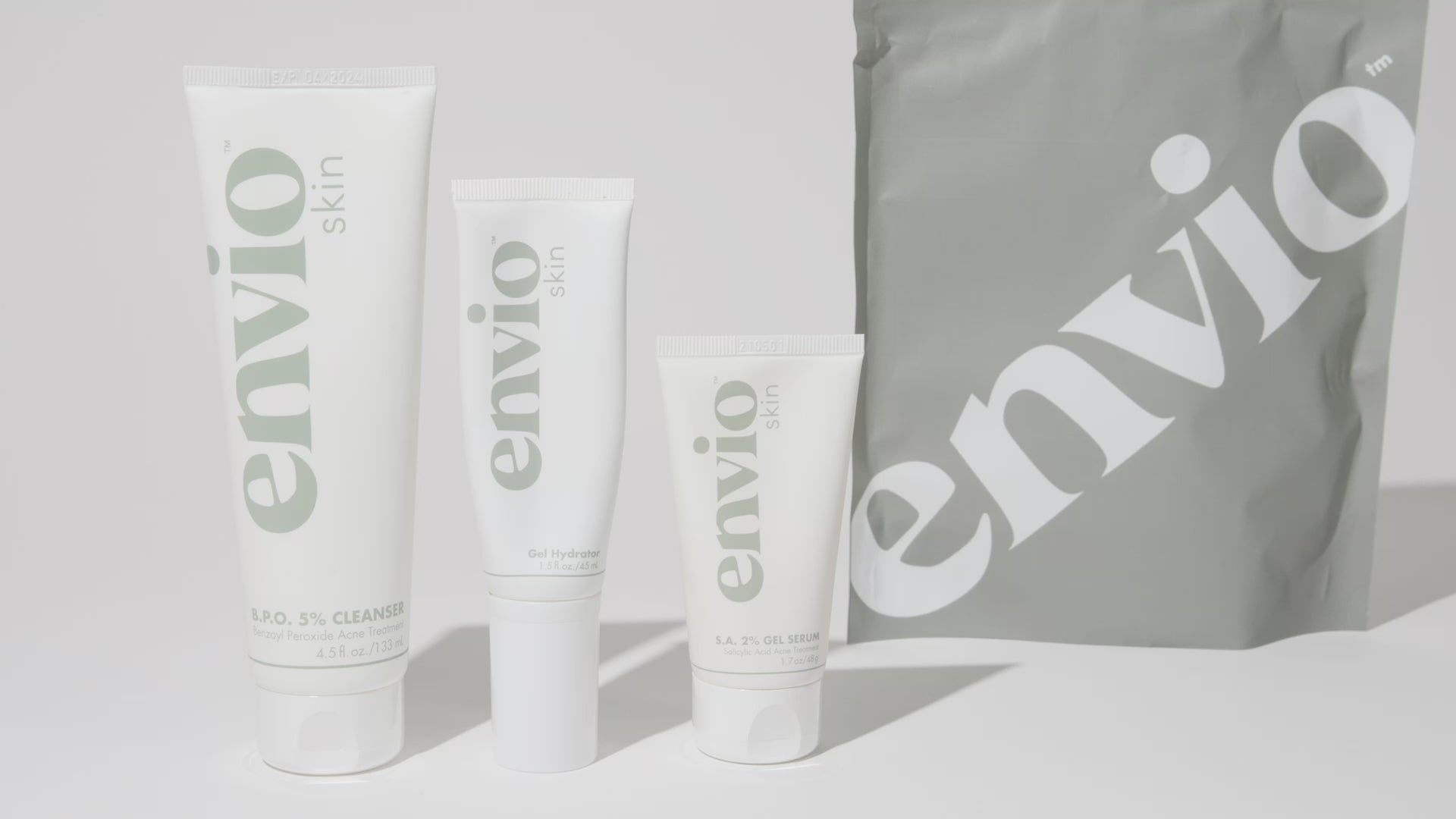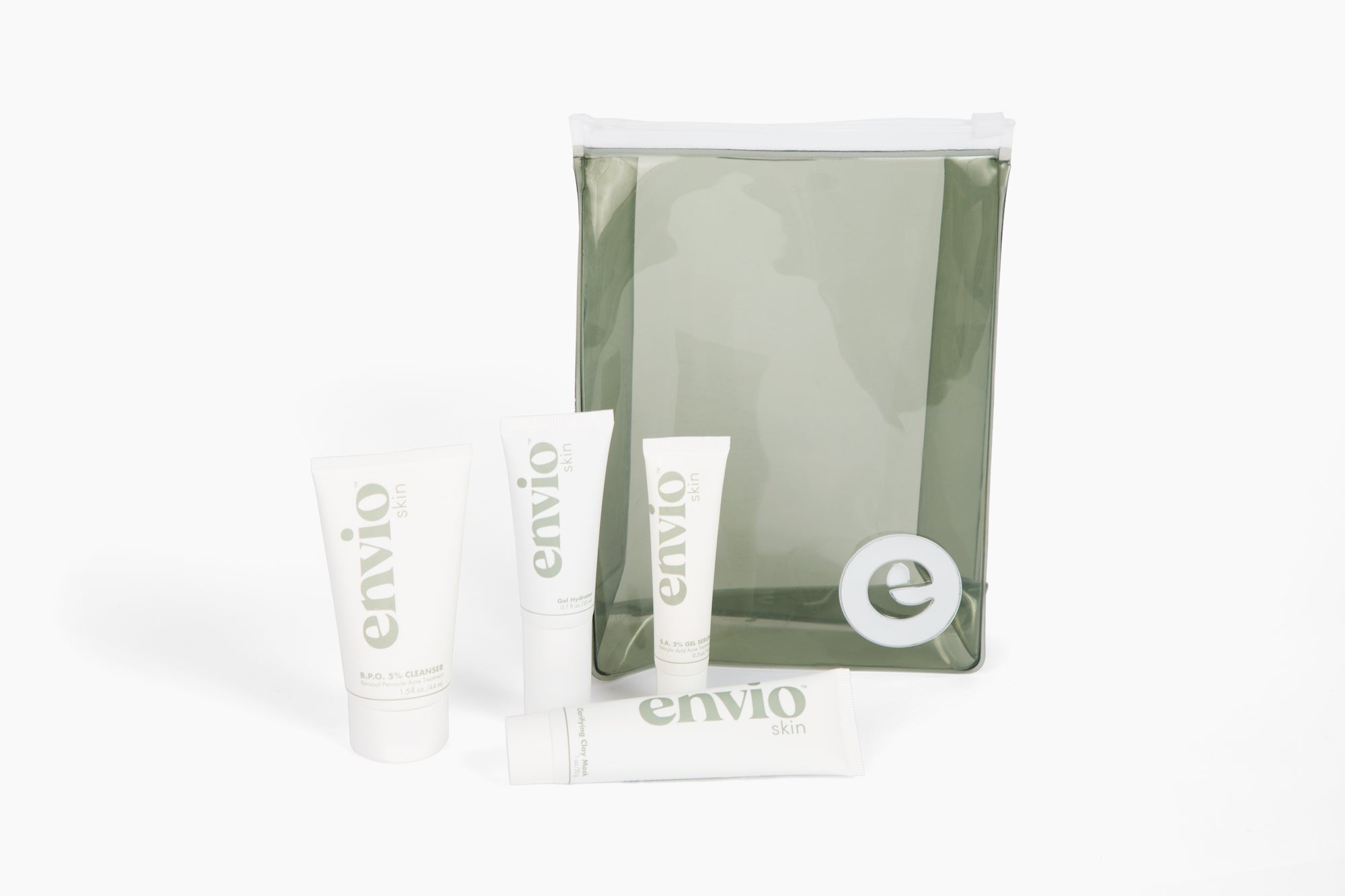 Clear Skin Trio - Trial (30 Days)
Introducing the Clear Skin Trio: Achieve Clean, Healthy Skin for All Skin Types
Discover the key to flawlessly clean pores and radiant skin with our Clear Skin Trio, designed for everyone – from teens battling acne to adults seeking a refresh.
Benefit from our full-sized 3-step solution, optimized for lasting results. Not only does it promise clearer skin, but it also comes with our moisturizing gel hydrator.
Bonus: Receive a complimentary Clarifying Clay Mask and a TSA-approved travel bag with your purchase as a subscription.
Introducing Envio Clear Skin Trio

B.P.O 5% Cleanser
Dermatologist recommended
Patented USP grade benzoyl peroxide
Deeply cleans pores, eliminating acne-causing bacteria
Aloe Vera, Allantoin, and Pro-Vitamin B5 for soothing and calming

S.A 2% Gel Serum
Exfoliates, minimizes pores, and reduces oiliness
Enriched with White Willow, Green Tea, Allantoin, and Lavender

Gel Hydrator
Hyaluronic Acid for natural exfoliation and hydration
Lilac for calming. Totarol of New Zealand an antioxidant.
"I have seen great improvements in my skin's complexion. My acne scars and dark spots are clearing up as well as the intensity of my breakouts if/when they happen."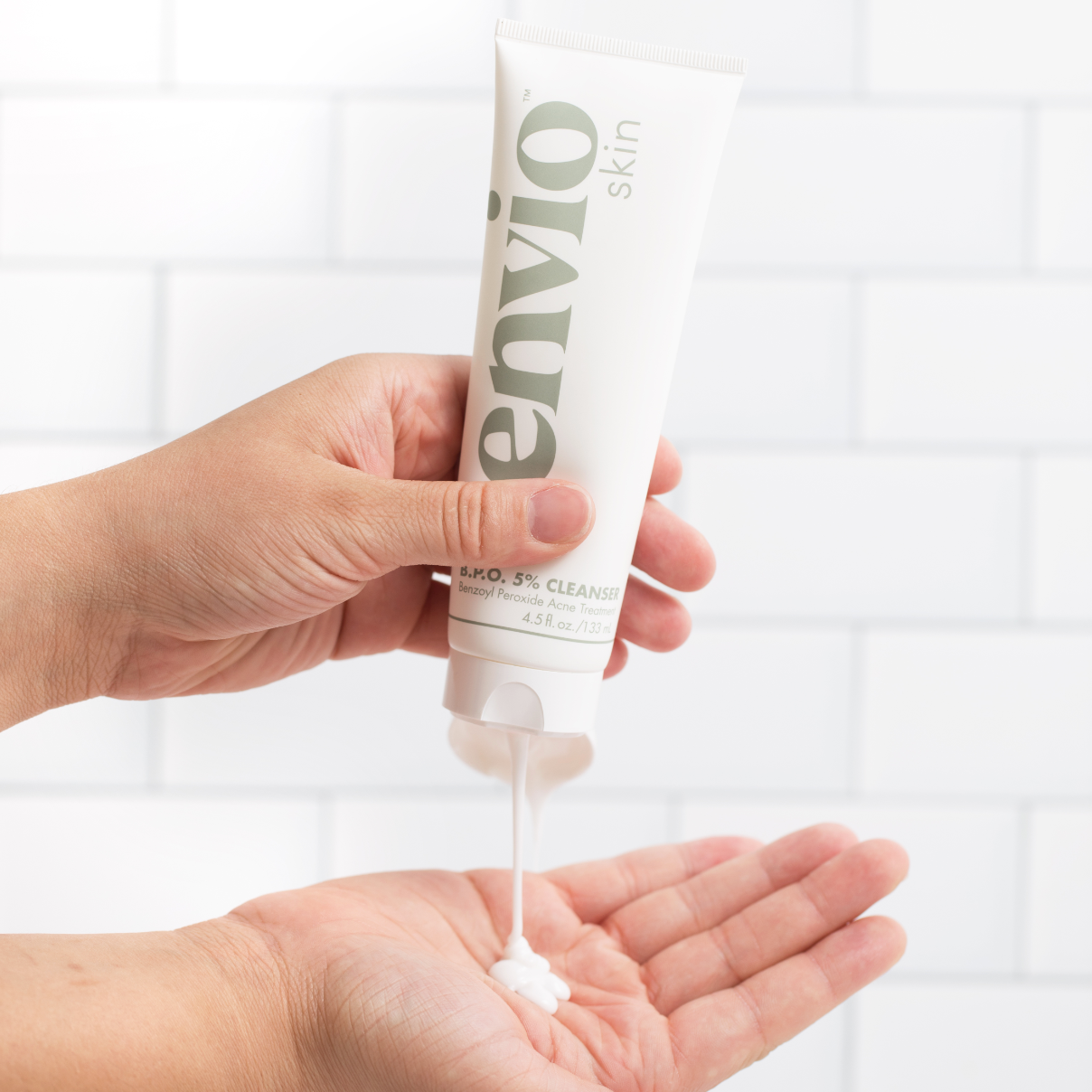 Prescription Grade Power.
We know you want to treat breakouts as efficiently as possible, so we created a medical grade anti-acne kit that can be conveniently delivered to your door.
Dual Approach to Treating Acne
We know that a battle with acne can be both physical and mental, so we partnered with BetterHelp™ to encourage treating acne from both angles. Each purchase of Envio comes with 50% off your first month of therapy.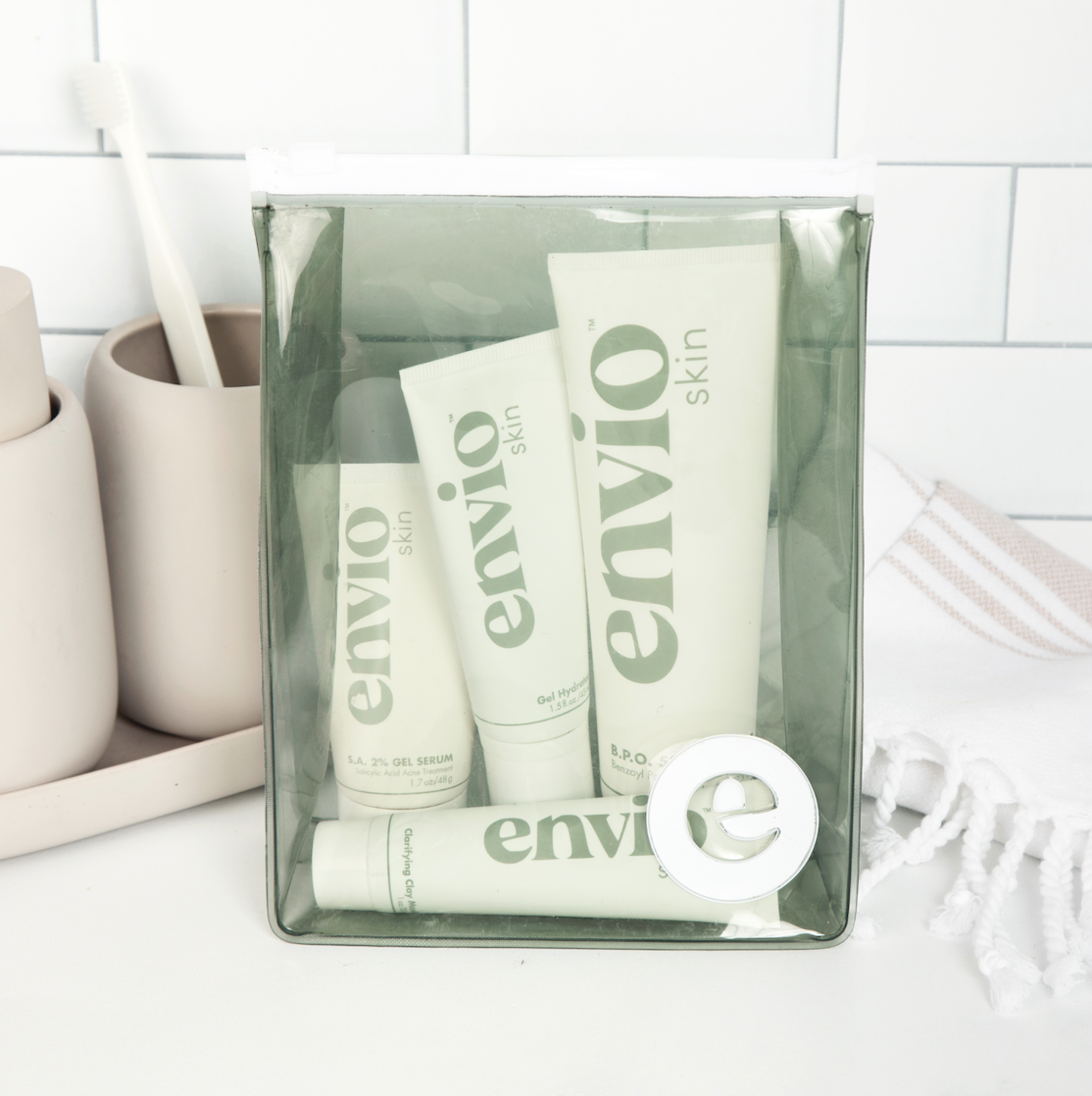 Built For Convenience
Our treatments needed to be just as easy to use as they are powerful. So we developed products that can easily be incorporated into your morning and nighttime skincare routine.
Total 5 star reviews: 6
Total 4 star reviews: 0
Total 3 star reviews: 0
Total 2 star reviews: 0
Total 1 star reviews: 0
100%
would recommend this product
G

Clean and Simple

I like how clean my face and pores feel after only a few days of using the 3 products. I can't wait to try the cranberry clarifying clay mask tomorrow.

SW

Amazing!

This really helped my acne! It was soft on my skin too, which is good considering I have sensitive skin.

FS

Unbelievable Results

Id only been using for 3 days and this worked better than what my doctor prescribed. I will definitely keep using this!

J

Great for Sensitive Skin!

I've only been using Envio for a week and my skin is already clearing up a good bit! I've struggled with constant acne on my cheeks. I even cut dairy out of my diet (which caused many of my breakouts) but I still deal with acne. I have really sensitive skin so I can't always use certain products or brands but I was pleasantly surprised that all of Envio's products were soothing on my skin. The Salicylic Acid serum smells incredibly good, You wouldn't believe it! I would definitely recommend Envio, they're clean, vegan, women owned, and so much more. So, what's not to like?

This saved my skin!!!

I got the set a while ago and since I started using it my skin stopped breaking out and cleared up within 3 weeks!! I couldn't recommend this enough! My skin is now perfectly hydrated and no longer dry and flaking and all my acne is gone!
Reviews Loaded
Reviews Added